The roof is one of the most important areas of your home. Unfortunately, it is often overlooked when it comes time to upgrade your property. It is of the utmost importance that your roof remains in top condition at all times. The roof works to keep the elements outside, reduce energy usage and prevent the inside of your home from getting damaged.
As your roof ages, it does more than just detract from your home's curb appeal. It could also be letting heat escape in the winter and allowing warm air into your home during the summer. Our certified experts will walk you through all of your available options to ensure you are getting a look that will be the envy of the neighborhood as well as being energy efficient.
We also provide premier metal roofing services and solutions, tailored to your property's needs for an outstanding roof. Get more information here.
Considering Skylight Installation? We're an Authorized Dealer & Installer of VELUX® Skylights
JAG Renovations Group is a Certified 3-Star VELUX installer. Our team has been trained and certified to measure, service and install VELUX skylights according to the manufacturer's specifications and warranties.
VELUX is the world leader in roof windows and skylights. This is no accident. It is a result of our intense focus on creating the best quality, most energy-efficient daylighting products available. We only partner with companies who stand behind their work, just as much as we do. For this reason, VELUX is our exclusive partner for skylights. All their skylights include a 10-year "NO Leak" warranty. VELUX also offers skylights with many different options on blinds, air flow, solar/electric power and sizes.
Schedule a Free Skylight Estimate
If you're considering skylight installation for your home or business, give JAG Renovations Group a call to set up your free consultation and estimate today at 404.594.1051 You can also fill out our online contact form and we'll be in touch with you as soon as possible!
We understand all of the challenges that come with rain gutter replacement and installation. Everything has to be perfectly level. All of the guttering pieces have to fit together correctly so there's no leaking.
The new gutters we install come in a wide variety of styles and materials. Some of the most common types we're called about include:
Seamless Gutters
Aluminum Gutters
Vinyl Gutters
Copper Gutters
Covered Gutters
Our gutter installation teams have the training and knowledge needed to install your gutters correctly and quickly. In fact, in most cases we'll have your new gutters up within a day. Best of all, your new guttering system is likely to be much better than the one you had before thanks to innovations in the industry.
When your old gutters get clogged up, you have no option but to climb up on a ladder and clean them out. Clogged gutters can lead to a number of issues, including guttering falling off your house. That can damage your property or even injure someone.
While our gutter replacement services can replace damaged pieces, it's best to never reach that point. That's why gutter covers are such a great addition to any home. They prevent debris from falling into the gutters while allowing water to pass through.
A simple and cost-effective way to improve your home is by updating your windows and doors. JAG is pleased to offer both of these services. Select from several window styles, including single- or dual-pane models. The Georgia summer can be a hot one, and adding dual-pane windows will help you control your energy costs. Your cool, air conditioning will remain in the home instead of filtering through your old, worn windows.
JAG can also remove and install doors throughout your home. Add strong front and back doors to your home for both safety and aesthetic purposes.
Beauty Meets Functionality
Imagine having the same comfort you experience inside your home in the outdoors. The weather here in Georgia is beautiful, our winters are mild, and as a result we have the perfect climate to enjoy outdoor comfort.
Patios & Outdoor Kitchens
Stone patios are our most widely asked for project. We offer an array of flagstone and mortar colors to best suit the style and décor of the home. Gaining in popularity are outdoor kitchens. Gone are the days of the pedestal or cart type grills.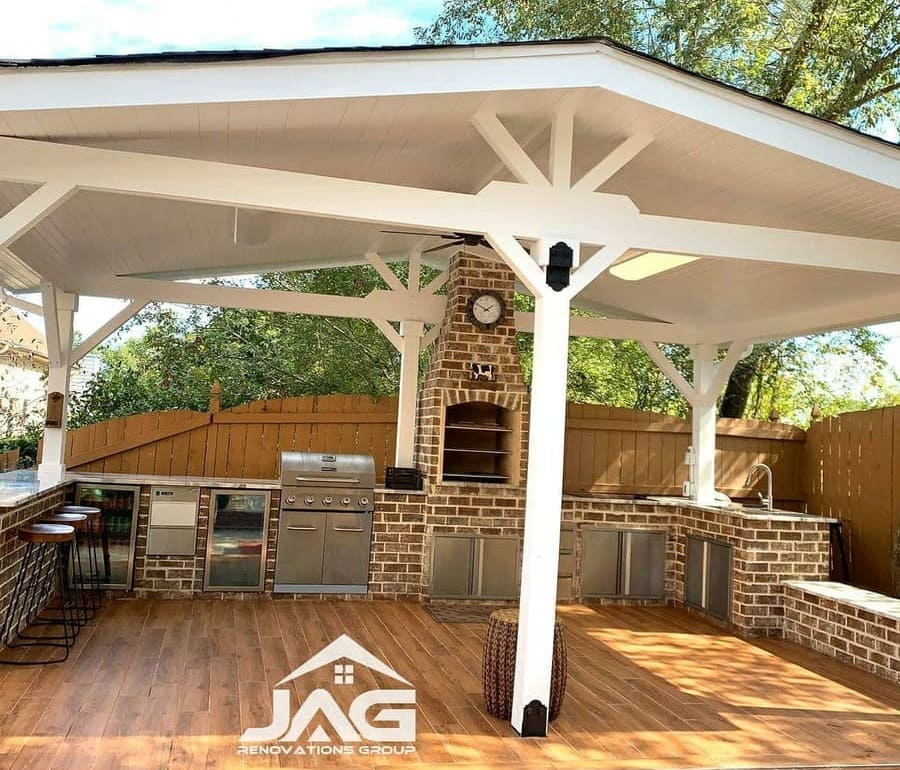 Outdoor Fireplaces & Firepits
Fireplaces and fire pits are becoming more popular each year. These additions make for the most favorite gathering places for friends and family. Both can be built to enhance the architecture of the home using various colors of stone, tile and mortar.
Walls, Steps & Walkways, Etc.
Sometimes it's about access. Steps and walkways can provide ways to get to areas of the landscape and can be built of many different materials. Stone, timbers, blocks and crossties to name a few. Whether it's a seat wall for the patio or a retaining wall to tackle a slope…we can help.
Fireplaces and fire pits are becoming more popular each year. These additions make for the most favorite gathering places for friends and family. Both can be built to enhance the architecture of the home using various colors of stone, tile and mortar.
Peace of Mind Starts with JAG
We are highly trained in renovation, restoration and reconstruction. We are also intimately familiar with the insurance industry and will work closely with all insurance carriers to ensure that a reasonable and fair settlement is reach and that the process is as smooth and efficient as possible.