JAG Roof Replacement Process
Below is information to assist you in bid comparisons and to help you make the right decision for your home and family. It's important to be well educated on the subject with a project of this magnitude. We pride ourselves on taking the headache out of the reroof process. JAG stands out in THREE main areas; home protection, roof installation and post-installation.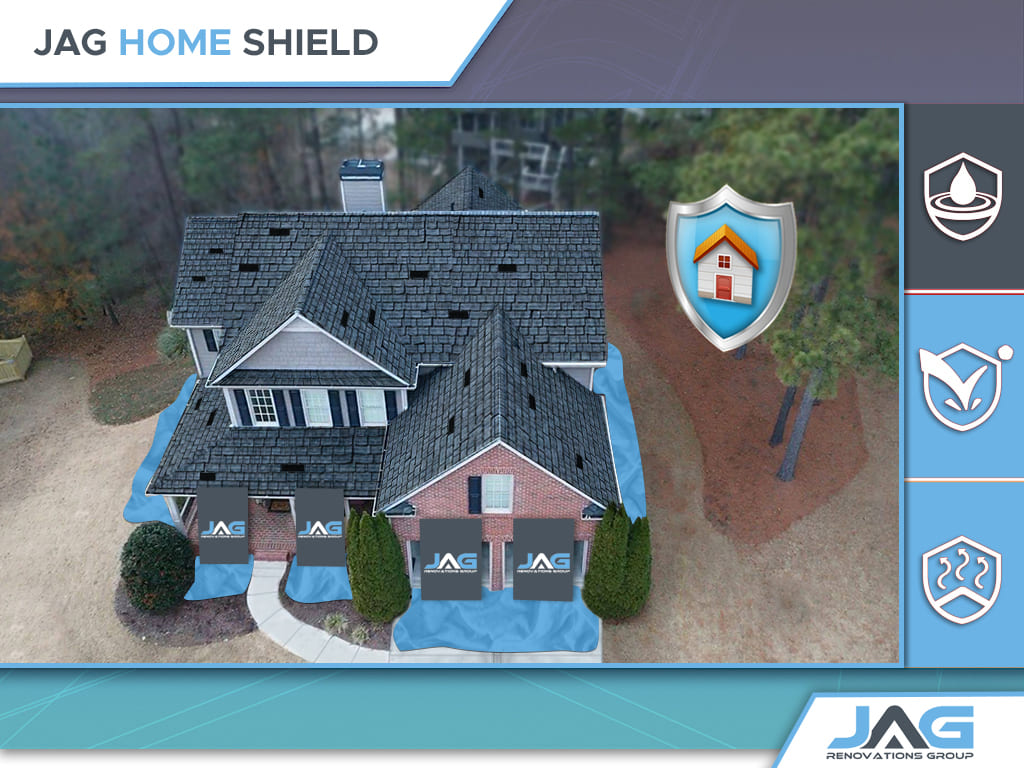 During tear-off tons of debris including shingles and nails are removed and it can be very destructive. We take every precaution to make sure we protect your property by placing JAG Home Shield Protective nets around your property to protect your driveway, windows, garage door, exterior windows and landscaping.
A good foundation for your roof is important otherwise new installation won't work efficiently. We will remove all existing material and will replace items that are not salvageable and make sure we have a solid nailing base to prolong the life of your new roof system. We use the finest materials so we can offer our customers the best possible selection, warranties and prices.
JAG won't leave you with a mess to clean. In addition to protecting your home, the nets system we utilize will catch all debris. As an extra measure, we roll our industrial magnetic sweepers to pull up all of the nails to ensure none are left behind.
JAG Roof Replacement Process Details
Financing Options Available
At JAG Renovations Group, we know that you may be concerned about financing your roof repairs or roof replacement. We care about our clients, and we make it easy to explore your options. Some homeowners may even qualify for FREE or low-interest financing. If you're ready to get started, you can get prequalified and estimate monthly payments from the comfort of your own home.
Peace of Mind Starts with JAG
We are highly trained in renovation, restoration and reconstruction. We are also intimately familiar with the insurance industry and will work closely with all insurance carriers to ensure that a reasonable and fair settlement is reach and that the process is as smooth and efficient as possible.